Thesis
Cannabis stocks have rallied massively over the last couple of months, and many of them are now substantially overvalued. Canopy Growth (CGC), made famous due to Constellation Brands' (STZ) stake in the company, looks very overvalued.
Many investors only look at the theoretical potential for Cannabis stocks (which includes factors such as a potential US-wide legalization), without taking a closer look at each company's underlying financials.
Canopy Growth keeps losing money, is burning through cash, and dilutes shareholders constantly. I believe that its share price will be substantially lower in a couple of years compared to where shares are trading right now.
The Cannabis Story That Made Cannabis Stocks Explode Upwards
In several countries around the globe, laws regarding the use of cannabis for medical purposes as well as for recreational purposes were relaxed over the last couple of years. This includes several US states, as well as several other countries where the use of marijuana is either legal or decriminalized.
In Canada, recreational marijuana use is legal from October 17, which makes Canada one of the most relevant markets for cannabis companies such as Canopy Growth.
The legalization of marijuana in Canada has made the stock price of several Canadian cannabis companies explode upwards over the last couple of months: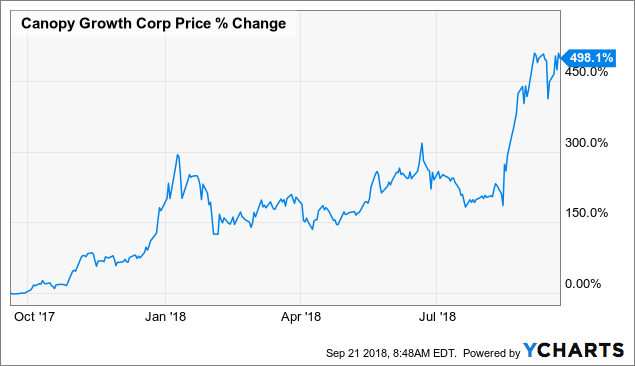 Canopy Growth's share price rose by 500% over the last year, but other cannabis companies such as Tilray (TLRY) saw even higher share price gains in short periods of time.
If the price of a stock rises by several hundred percent in a couple of months, investors should naturally get clairaudient. Unless the company has come up with something revolutionary (think a biotech company that announced great results for one of its pipeline candidates), chances are good that the market is overreacting, and that shares are overvalued. I believe that this is the case for Canopy Growth – the stock price has run ahead of the underlying value of the company.
The Canadian (Medical) Marijuana Market Is Not That Big
Canopy Growth calls itself a medical marijuana company, thus ultimately the size of the Canadian medical marijuana market is a very relevant factor for Canopy Growth's potential.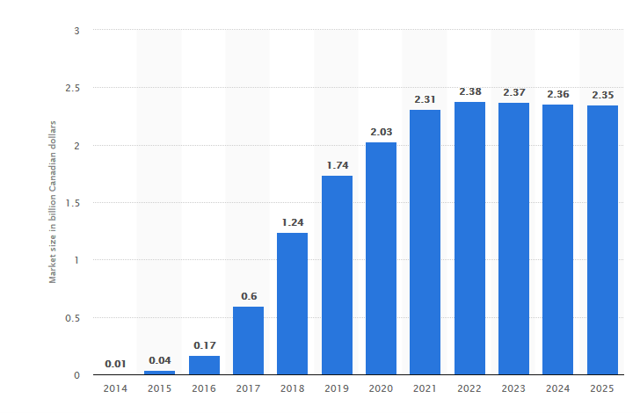 Source: statista.com
The medical marijuana market will grow massively during the current year (roughly doubling in size from 2016's level), but growth will slow down in the foreseeable future. The market is forecasted to grow by 17% during 2019, by 14% during 2020, and by just 3% during 2021. Even worse, the total market is forecasted to decline beyond that, thus the market will likely peak in a couple of years. The numbers in the above graph are in Canadian dollars, thus the total market value is lower in USD – the peak in 2022 would be US$1.85 billion at prevailing exchange rates.
Assuming that market players can generate average net margins of 10% at the peak (they are very far away from that right now), total annual net profits would peak at ~$185 million – for the whole industry. If we put a 20 times P/E ratio on those industry-wide profits, the Canadian medical marijuana market could support an industry-wide market capitalization of ~$3.7 billion, which is not overly much. Single cannabis companies such as Canopy Growth or Tilray have a market capitalization that is a multitude of that.
The majority of Canopy Growth's market capitalization, therefore, must be based on other factors, such as hopes about cannabis legalization in the US on a federal level. US-wide legalization is not impossible, but something that could possibly happen in the future.
Investors should not base their decision to buy a stock on hopes for legalization changes and other wishy-washy factors, though. Taking a look at a company's underlying fundamentals has always been a good idea in order to make good investment decisions. Looking at Canopy Growth's fundamentals is something that the market is seemingly not doing very often – data provided by many investment sites is incorrect or incomplete, and even here on Seeking Alpha there is not a lot of data available.
Canopy Growth's Balance Sheet, Earnings Statement, And Cash Flow Statement
In order to get a better look at the company's underlying financials, I took a look at the relevant data, which can be found here. Note: The data in these statements is in Canadian dollars.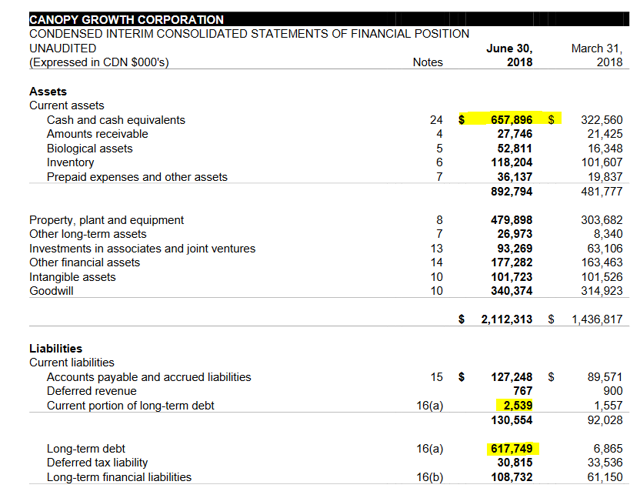 Source: Canopy filing
The most recent filing shows that Canopy Growth's balance sheet is not stretched too far at all: The company had a cash position of $660 million, slightly more than the company's long-term debt. Canopy Growth was essentially net-debt-free at the end of the most recent quarter.
The sizeable cash position does not exist due to positive earnings and cash flows, though; it is rather a result of the company's share issuance. When companies have strong balance sheets due to generating massive cash flows, think Apple (AAPL) or Microsoft (MSFT), that is something investors can and should be happy about.
If a balance sheet is showing a meaningful cash position, but all of that cash was generated by issuing shares, which dilutes shareholders, that is less fortunate.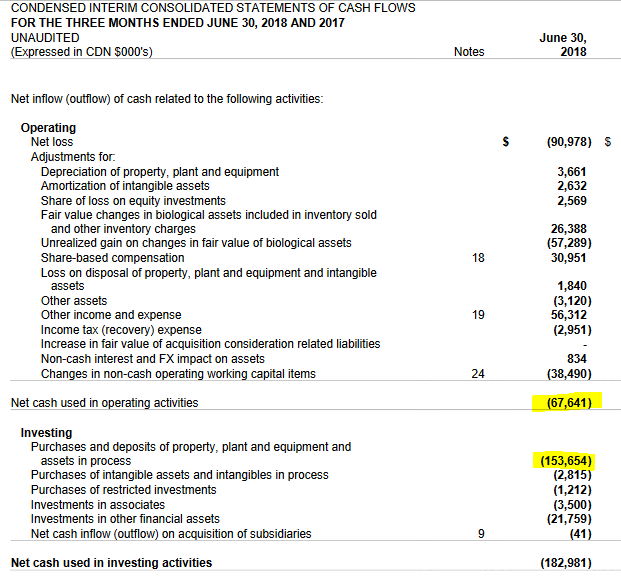 Source: Canopy filing
Due to operating cash burns and ongoing investments into its asset base, Canopy Growth generated negative free cash flows of $222 million during the most recent quarter. Burning through that amount in three months is equal to an annualized cash burn rate of almost $900 million. The cash flow situation also is not improving, but rather getting worse: During the previous year's quarter, Canopy Growth had negative free cash flows of $22 million.
Over the last year, Canopy Growth increased its cash burn by factor 10. Even its operating cash burn worsened substantially, despite the heavy investments into its asset base (which should, theoretically, improve its earnings and operating cash flows).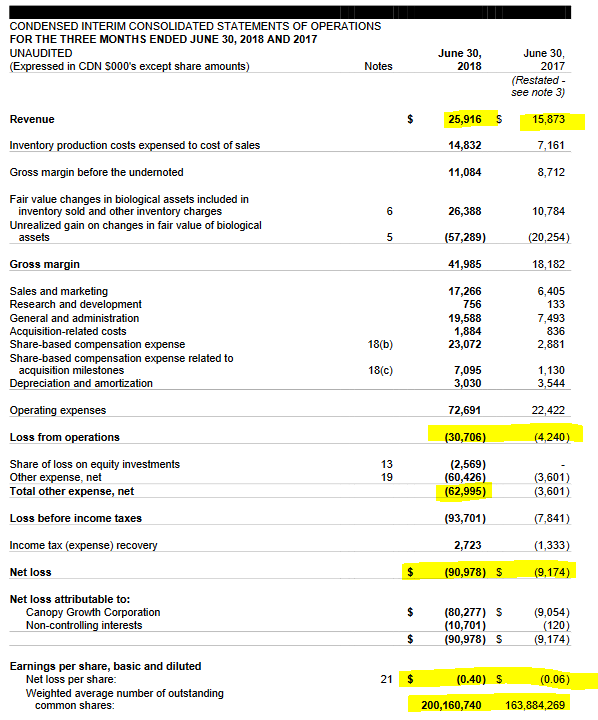 Source: Canopy filing
When we look at the earnings statement, several things jump out. First, Canopy Growth has grown its sales by only 63% over the last year, despite the fact that the base is very low and therefore high relative growth rates should be easy to achieve.
Canopy Growth also grew its revenues considerably less than the Canadian medical marijuana market (which is forecasted to grow by ~100% during 2018). This means that Canopy Growth is either losing market share, or forecasts for the Canadian medical marijuana market were far too optimistic (which would be a negative for Canopy Growth and all other cannabis players).
Despite higher revenues, Canopy Growth lost significantly more money during the most recent quarter, due to higher operating losses as well as due to higher other expenses. These other expenses include items such as fair value changes on financial assets, convertible debt issuance costs, etc. More on this can be found in this filing on page 26.
One last meaningful item is the fact that Canopy Growth's share count rose by 22% over the twelve months that ended on June 30. A rising share count means that each share's portion of the company's net earnings, assets and cash flows declines.
Recently, Canopy Growth has increased its share count massively through its deal with Constellation Brands. This means that shareholders got diluted massively (~50%). Julian Lin has a good article explaining the dilutive impact of the Constellation Brands deal, and why most investors (and websites where investors receive their information from) got it wrong.
So to sum Canopy Growth's fundamentals up: The company grows its revenues at a strong relative pace, but from a small base, thus the absolute revenue growth is still not high at all. It also looks like Canopy Growth is growing at a slower pace than the Canadian medical marijuana market, which is not positive at all.
At the same time, Canopy Growth's operating losses and especially its net losses keep widening, and its cash burn increased massively over the last year. Canopy Growth's deal with Constellation Brands allows for a meaningful boost to its cash position, thus the cash burn will not be a problem during the next couple of quarters. Canopy Growth's inability to generate positive earnings or cash flows is a negative, nevertheless. Investors also get diluted constantly, which makes each individual share less valuable.
Final Thoughts
What is the value of a company that generates $100 million in revenues a year, and that burns through $900 million in cash during the same time frame while doing so? I believe it is substantially less than Canopy Growth's current valuation of more than $15 billion (factoring in the dilutive impact of the Constellation Brands deal, which has brought the share count to more than 300 million).
Even if Canopy Growth manages to get profitable at one point (which is not guaranteed), it is very likely that its eventual profits will not justify a $15-billion valuation.
I, therefore, believe that Canopy Growth, and most other cannabis stocks, should be avoided by long-term focused investors. Shares could turn out to be profitable shorts (see Tilray's fall from $300 to $180 over a couple of days), but that is not for everyone.
Author's note: If you enjoyed this article and would like to read more from me, you can hit the "Follow" button to get informed about new articles. I am always glad to see new followers!
Disclosure: I/we have no positions in any stocks mentioned, and no plans to initiate any positions within the next 72 hours.
I wrote this article myself, and it expresses my own opinions. I am not receiving compensation for it (other than from Seeking Alpha). I have no business relationship with any company whose stock is mentioned in this article.
Related Posts: