Surprise – people are buying PCs again. Long thought to be a dead market after replacement cycles lengthened and tablets/phablets and hybrids like the Microsoft Surface (NASDAQ:MSFT) increased in popularity, it seems that consumers are treating themselves to computers again.
When you think about it, this doesn't appear to be a huge surprise – consumer confidence is up, stocks are at record highs, and consumer spending is on the rise, with reports of Christmas sales up ~5% y/y and representing the largest spike in six years. It stands to reason then that some of those dollars flowed into PCs, which have also been in decline for six years.
I've been an HP, Inc. (NYSE:HPQ) bull since its stellar earnings report in November, and despite my general aversion to hardware stocks, I can't help but to think that HP is materially undervalued, in the Warren Buffett sense of the word. HP's innovative moat and brand power within PCs (which represents two-thirds of its revenues; the other third derives from printers and printing supplies) cannot be understated. Profits are up double digits this year as HP achieved PC shipment growth even as the rest of the PC industry is stalling – this doesn't sound like a company that deserves to trade at a 12.7x forward P/E, based on analyst consensus estimates of $1.81 in EPS in FY18.
Here's a look at HP's one-year chart. The stock has certainly climbed out of its depths, but the ascent in the stock price, in my view, hasn't kept pace with the ascent in its fundamentals. With its above-average earnings growth, HP should be trading at least at 17x forward P/E – in line with the rest of the market – implying a price target of $31. There's plenty of room for this company to ride the bull run higher, especially as it's surfaced from the down-cycle of the PC market.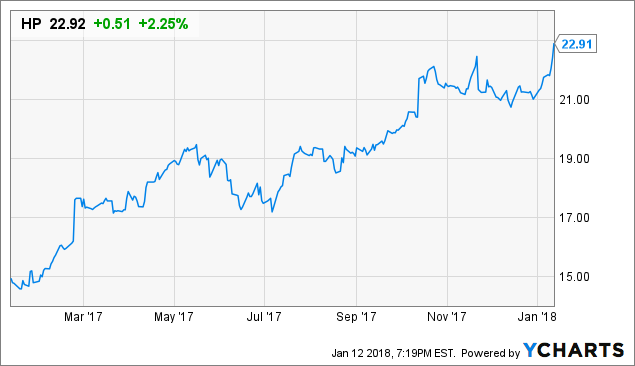 Let's take a closer look into the IDC report, which has caught headlines across a wide array of both tech and non-tech publications, including Bloomberg and The Verge.
IDC reported that global PC shipments in the fourth quarter of 2017 totaled 70.6 million units, up 0.7% y/y from 70.1 million units in 4Q16. This is the first y/y rise in six years. Most notably, of the major PC vendors, HP is the one that saw that largest growth in Q4, with 8.3% y/y increase in shipments.
Figure 1. IDC 4Q17 PC shipments report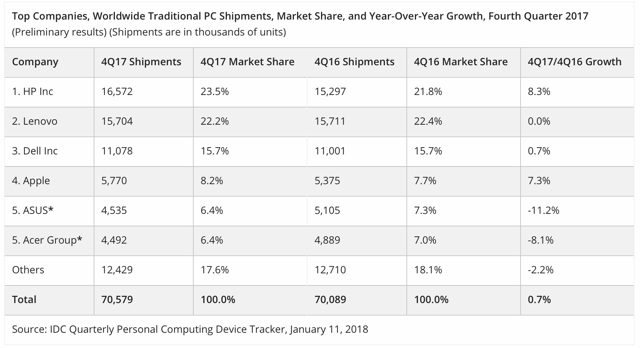 Source: International Data Corporation
HP's market share moves are also worth noting; in 4Q16, it trailed 60bps behind lower-end Chinese vendor Lenovo (OTCPK:LNVGY). In 4Q17, Lenovo saw flat shipment growth (trailing the wider industry at 0.7% growth) while HP galloped ahead and gained 170bps of market share, making it the clear PC leader with more than a point of market share ahead of Lenovo.
Obviously, investors are mostly interested in how this will impact HP's financials. Well, we won't know for sure until HP's Q4 earnings release, but we can look backward at IDC data to understand the correlation between PC shipments growth and HP's earnings.
In Q3, total PC shipments were down -0.5% y/y while HP's shipments grew 6% y/y, as reported by IDC's third-quarter report.
Figure 2. IDC 3Q17 PC shipments report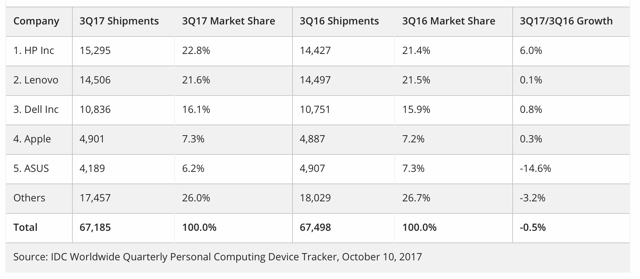 Source: International Data Corporation
Concurrently, in Q3 (HP's fiscal Q4), HP's Personal Systems division reported 13% y/y revenue growth (6 points of unit growth plus ASP growth). This translated into 11% y/y growth company-wide, which beat analyst consensus estimates by 4%, and flowed through to a 24% y/y growth in net income.
Clearly, there is a strong correlation between IDC's growth data and HP's earnings – as long as ASPs hold up, HP should be well positioned to report >8% revenue growth in PCs and deliver outsized earnings in its fiscal Q1.
Qualitatively, it's intuitive to understand why HP's PC business is so strong; there's really something for everyone. Its higher-end Spectre line serves the $1,000+ market, HP ENVY serves the ~$800-1,000 market, and its lower-priced HP Pavilion offerings cater to the cheaper end. HP laptops resonate well with all segments of buyers and have a cachet of quality – unlike Lenovo, which despite having higher-end offerings of its own, is often perceived as a budget system.
Key takeaway: HP has had a strong batting average during its past few earnings seasons, and given the extremely bullish data coming out of IDC, there's good reason to believe the strength will continue into Q1 this year.
Disclosure: I am/we are long HPQ.
I wrote this article myself, and it expresses my own opinions. I am not receiving compensation for it (other than from Seeking Alpha). I have no business relationship with any company whose stock is mentioned in this article.
Related Posts: