Energy Transfer Partners LP (ETP) and general partner Energy Transfer Equity (ETE) continue to improve operating results. Nonetheless, both stocks continue to move in two directions: idle and reverse. In this article, armed with the benefit of full-year 2017 results, we will take a look at the situation and attempt to discern fact from fiction.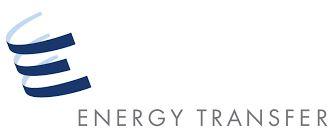 ETP Showed Excellent Operating Results
Without going through all the details, here's what you need to know: Energy Transfer Partners ended the year with nothing less than an outstanding quarter. This dovetailed with a solid FY 2017. The proverbial "table is set" for 2018.
Strong Cash Results
MLPs measure cash via several metrics. These include GAAP operating cash flow and non-GAAP proxies, distributable cash flow, and EBITDA. By any measure, the bottom line was strong.

Source: Energy Transfer 4Q 2017 earnings release and 2017 10-K
Given the major capital projects ramping up, focusing upon and extrapolating 4Q results may be even more appropriate.

Note: 4Q 2017 Run Rate is 4Q 2017 results multiplied by four; a full-year indicated run-rate.
Easily overlooked is the fact ETP took a fourth quarter $90 million EBITDA hit due to a change to LIFO accounting.
Trending into 2018, figures are looking up. As we will see, all this bodes well for forward distribution coverage.
2017 Cash Distributions Covered
For FY 2017, Energy Transfer Partners logged a 1.20x DCF/unit coverage ratio. However, investors recognize parent Energy Transfer Equity agreed to forego IDRs totaling $656 million. Nonetheless, even without IDR relinquishment, Energy Transfer Partners covered the distribution at 1.01x ratio.
4Q 2017 results offered a greater cushion than the full year. If ETP paid its IDRs in full, the DCF/unit coverage ratio was 1.09x. This is within management's stated coverage target range.
I was pleased to see the most recent distribution was held flat, too. ETP pays out plenty of dough. It's time to strengthen the balance sheet. The current distribution yield is 12.7%.
Easing Leverage
Even though YoY net debt inched up, leverage, as measured by straight net-debt-to-adjusted EBITDA, fell to 4.8x from 5.5x a year earlier. Leverage, as measured by Energy Transfer lenders, eased to 3.96x, well within banking covenants.
Furthermore, liquidity is improving, too.
There's $2.51 billion remaining on the current revolving credit facility, plus $1.765 billion cash forthcoming on the heels of two major, internal transactions. First, Sunoco LP (NYSE:SUN) paid Energy Transfer Partners $540 million in exchange for 17.3 million common units, and ETP entered into a contract to sell certain compression assets to USA Compression Partners (NYSE:USAC) for $1.225 billion cash and $447 million equity.
These 2018 transactions should be completed by mid-year.
Major Projects on Track (More or Less)
As usual, the company is battling to complete a laundry list of major capital projects.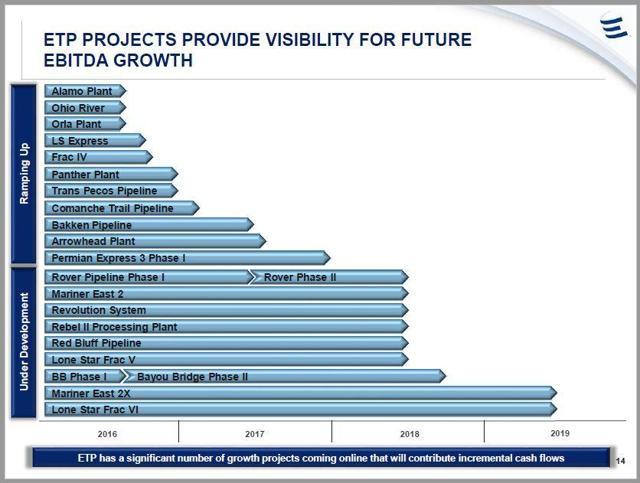 Source: Energy Transfer February 28, 2018, Investor Conference
I tend to focus upon the Big Three: Rover pipeline, Mariner East 2, and Revolution pipeline projects. Generally, these all are in gear, despite the usual dramatics. Specifically, the Rover and ME2 pipeline projects are back in business after regulators halted construction over environmental concerns.
On the February 22, 2018, earnings conference call, CFO Tom Long explained:
I'm also pleased to say that we have recently received authorization from FERC to resume HDD operations at Tuscarawas River for Rover, and on ME2, the Pennsylvania Department of Environmental Protection or PADEP has lifted the Administrative Order in Pennsylvania and we have resumed construction activities on ME2.
Later on the call, he elaborated:
As I mentioned earlier on the call, on February 6, we received FERC approval to resume our HDD operations at the Tuscarawas River [Rover pipeline] and we remain committed to continue to comply with the approved HDD plans and the additional measures requested and approved by FERC… Today, we are more than 99% complete with construction for the full project and more than 82% complete with the HDDs. We will be requesting permission from FERC to put pipeline laterals and associated compression on Phase 2 into service in stages as they are completed throughout the next few months. This would allow Rover to ramp up capacity prior to achieving full completion of the 3.25 Bcf per day project in the second quarter of this year.

Now, moving on to Mariner East 2 and 2X, we continue to make progress on the construction of this project with 94% of mainline construction complete and 83% of HDDs completed are underway. At this time, we continue to target placing ME2 into service by the end of the second quarter of 2018. Construction on ME2X also continues and we now expect the pipe for ME2X to be online in mid-2019.

On our Revolution Project, the construction is mechanically complete and we will go into full service once Rover and Mariner East 2 are in service. We're evaluating other options to move residue and natural gas liquids on Revolution before Rover and ME2 are ready for service.
Without attempting to inject too much politics, I'll simply state my view Energy Transfer is attempting to complete construction operations in a remarkably hostile environmental climate. Given the company's trials and tribulations, one can mount a lively debate upon whether the business has been sensitive, proactive enough, or smart enough.
In any event, I see the following end-game outcomes: first, these projects will get done and get into service; second, I believe it's unlikely any other company will be able to reproduce similar assets in the same geographic footprint. It's just too hard. Once the major northeast U.S. projects are complete and in service, I suspect these will become golden. No other entity will have the stomach for obtaining the permits, haggling with the regulators, and battling the Left-Greens for each foot of installed pipe.
Looking Ahead
I'm cautiously optimistic.
The last time I wrote you, my 2018 model indicated Energy Transfer Partners could generate $4.7 billion DCF. Indeed, the 4Q 2017 run rate edged out that hurdle. Given seven major capital projects expected to come online by mid-year through year-end 2018, I anticipate this figure will go up.
Here's some rough math:
DCF totaling $4.8 billion (no credit for new projects), $2.26 per unit annual distributions (flat), and 125 million units (an 8% increase) indicates $2.8 billion is required for cash payouts. Notice I increased units outstanding, but estimated total distributable cash to fund all payouts in cash. No equity. Furthermore, management does not expect to raise capital in 2018 via a secondary equity offering.
Raw IDRs chew up another $2.4 billion. In reality, this year ETE will forego $153 thousand IDRs. Therefore, the actual draw is $2.25 billion.
Therefore, the bottom line is less than $300 million in the red.
That model includes NO credit for 2018 projects, NO additional ramp-up of completed 2017 projects, and NO Energy Transfer – Sunoco LP merger synergies.
As noted earlier, the Big Three projects are Rover, ME2, and Revolution. Presuming mid-year start-ups, these projects alone should beef up cash flow by $300 million in 2018. In addition, Lone Star Frac V, Red Bluff pipeline, and Rebel II Processing Plant – also scheduled for mid-year start-up operations – are planned to go live. Bayou Bridge pipeline (Phase 2) should follow suit in late 2018.
Seems tight enough, with enough factor of safety for me.
Let's Pivot To General Partner ETE
Cash Is King
Effectively, ETE stands by and collects IDRs from Energy Transfer Partners.
Indeed, there are several other cash sources. These include Sunoco LP IDRs, affiliate Lake Charles LNG net cash, as well as likely distributions from additional USAC common units poised to hit the books later this year. These other sources net about 20% of the total DCF accrued to Energy Transfer Equity. ETP is the big deal.
Looking back at 2017 results, IDR relinquishments lead to ETE recording lower YoY cash flow:

Source: Energy Transfer 4Q 2017 earnings release and 2017 10-K
Note: Figures above reflect ETE unconsolidated, stand-alone operating cash flow and DCF
Distributions Were A Bit Shaky, But Not to Worry
2017 DCF per unit coverage ratio fell to 96% from 124% a year earlier. This was a function of significantly higher 2017 IDR relinquishments. The IDR subsidy falls to $153 million in 2018 versus $656 million in 2017.
Sans the relinquishments, the coverage ratio would have been a fat 1.60x.
The Balance Sheet Is Temporal
It's just a matter of time before ETE and ETP rollup into one entity. Management indicated late 2019 could be the curtain call. Meanwhile, ETE exists to support its LP entities.
The current Energy Transfer Equity stand-alone, sub-investment grade balance sheet actually shows an equity deficit. This means total liabilities exceed total assets. Given the circumstances, I'm not overly worried about it.
YE 2017 consolidated bank leverage ratio was 3.68x. This is down versus a 3.81x marker the year before. The upper leverage limit is 4.5x.
2018 In A Nutshell: IDR Relinquishments Wash Out, Cash Washes In
Presuming Energy Transfer Partners does what it's supposed to do, 2018 should be a big year for Energy Transfer Equity. The company will see the cash coffers overflow.
My model:
ETP provides $2.25 billion IDRs, plus another $70 million in GP and LP interests. Sunoco LP adds IDRs totaling another $100 million. Lake Charles LNG contributes $175 million. USAC offers a spritz of cash, too.
All-in, the 2018 Energy Transfer Equity edition can net about $2.25 billion DCF.
I premise this years' LP partner distributions should average at least $1.25 per unit. (The current annualized payout is $1.22). At year-end 2017, there were 1.08 billion units outstanding. This year, another 79 million units hit the books when the Series A Fixed-to-Floating Rate Cumulative Redeemable Perpetual Preferred Units come due for redemption / conversion.
If the distribution is paid on 1.16 billion units, it will cost $1.4 billion cash.
That leaves a $850 million delta to the good. Not bad, right?
Not so fast.
Yeah, But The Price Action Stinks
Despite good results and a positive prognosis, ETP and ETE show some of the worst price action I've ever seen.
Over the past six weeks, ETP units have fallen 11%, though when adjusted for an ex-distribution, the decline is 8.4%. Meanwhile, ETE units tumbled 18% or 16% considering the recent ex-distribution.
Unquestionably, the midstream MLP business is out-of-favor. Through the same period, the broad-based Alerian MLP ETF (NYSEARCA:AMLP) gave up 13%. So our boys have some good company. Currently, Mr. Market hates these names. It seems MLPs go down every day. The chart is horrible.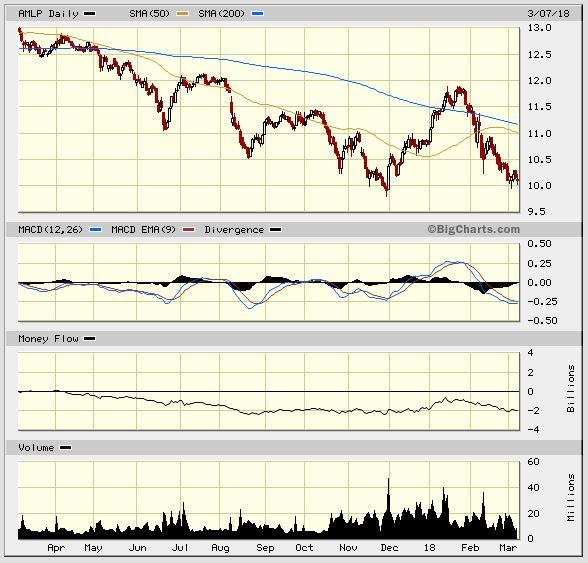 Courtesy of bigcharts.marketwatch.com
Ugly! The MACD may be bottoming out, perhaps trading volume is declining gradually, but it's a tough sell to find anything to get excited about.
Meanwhile, crude oil's flat-lined in 2018. It's hard times for these tickers.
So What Are Some Fair Value Estimates?
Trying to put a value on ETP and ETE is difficult. The price action is so bad versus the fundamentals, it's difficult to make sense of it.
Energy Transfer Partners
Energy Transfer Partners current bid is an abomination. At the time this was written, units closed at $15.81. The book value of the stock is $29.43. You read that correctly: ETP is trading at 0.54x P/B. The AMLP trades at a 1.58x P/B.
This is an equity sporting hard assets and a seemingly secure 12.7% distribution yield. The tangible book value is $22.17. The P/TBV is 0.71x.
Mr. Market says the ETP enterprise isn't worth its net tangible asset value and has no ongoing business value, either.
A price-to-cash flow analysis is nearly as silly. Using YE 2017 result, the current TTM P/DCF and P/OCF multiples are 5.2x and 4.6x, respectively. The long-term ETP multiples average ~8x. The current AMLP P/CF ratio is 7.58x.
Energy Transfer Equity
The ETE numbers are likewise hard to interpret.
2018 all-in, consolidated operating cash flow was $4.10 a unit. The most recent bid is $15.36. This means TTM P/OCF is 3.75x. That appears awfully low. A F.A.S.T. graph illustrates the long-term P/CF multiple is 7.5x.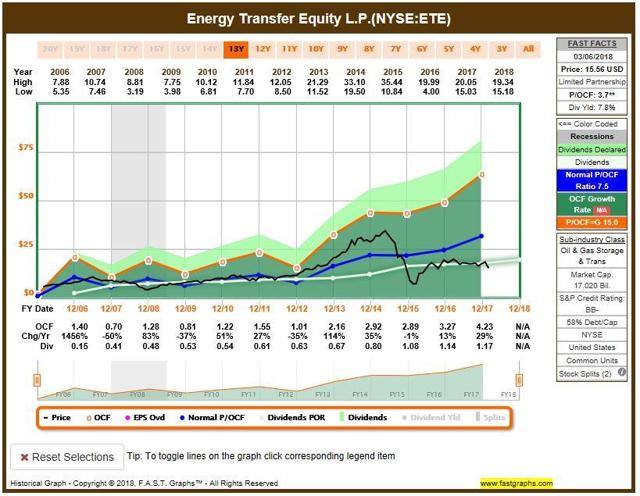 Courtesy of fastgraphs.com
In 2017, Energy Transfer Equity's stand-alone distributable cash flow per unit was $0.92. The resulting 17x P/DCF multiple seems lofty, but 2018 should see DCF rise by 125%. If ETP/ETE makes the projections outlined earlier, the Energy Transfer Equity stand-alone P/DCF ratio on today's close will be 9.5x. That's in the ballpark, right?
Not so much.
The ETE long-term, trimmed average P/DCF multiple is 18x.
Parting Shot
Given an "inevitable" ETE/ETP rollup, one could argue investors are undervaluing one entity in anticipation of the other coming out better on the event. However, it's not currently possible to know which company will "come out better," nor should both stocks appear so woefully undervalued.
Go figure.
If I didn't own ETP or ETE, I'm not sure I'd run out and buy some. However, as a long-term stockholder, there's no way I'm selling anything down here.
Please, do you own careful due diligence before making any investment decision? This article is not a recommendation to buy or sell any stock. Good luck with all your 2018 investments.
Disclosure: I am/we are long ETP, ETE.
I wrote this article myself, and it expresses my own opinions. I am not receiving compensation for it (other than from Seeking Alpha). I have no business relationship with any company whose stock is mentioned in this article.
Related Posts: